S i l e n t     S t i c k s   m o d e l   o v e r v i e w : 

With air-filled polycarbonate shafts, anti-slip rubber X- grips and Dual-Twist Reflex TipsTM, Silent Sticks cut drum and cymbal volume up to 80%. Ideal for worship, jazz and acoustic band settings, electronic drums, pad practice, band rehearsals, home practice, recording…. Wherever volume is a concern, play Silent Sticks and Silent Beater!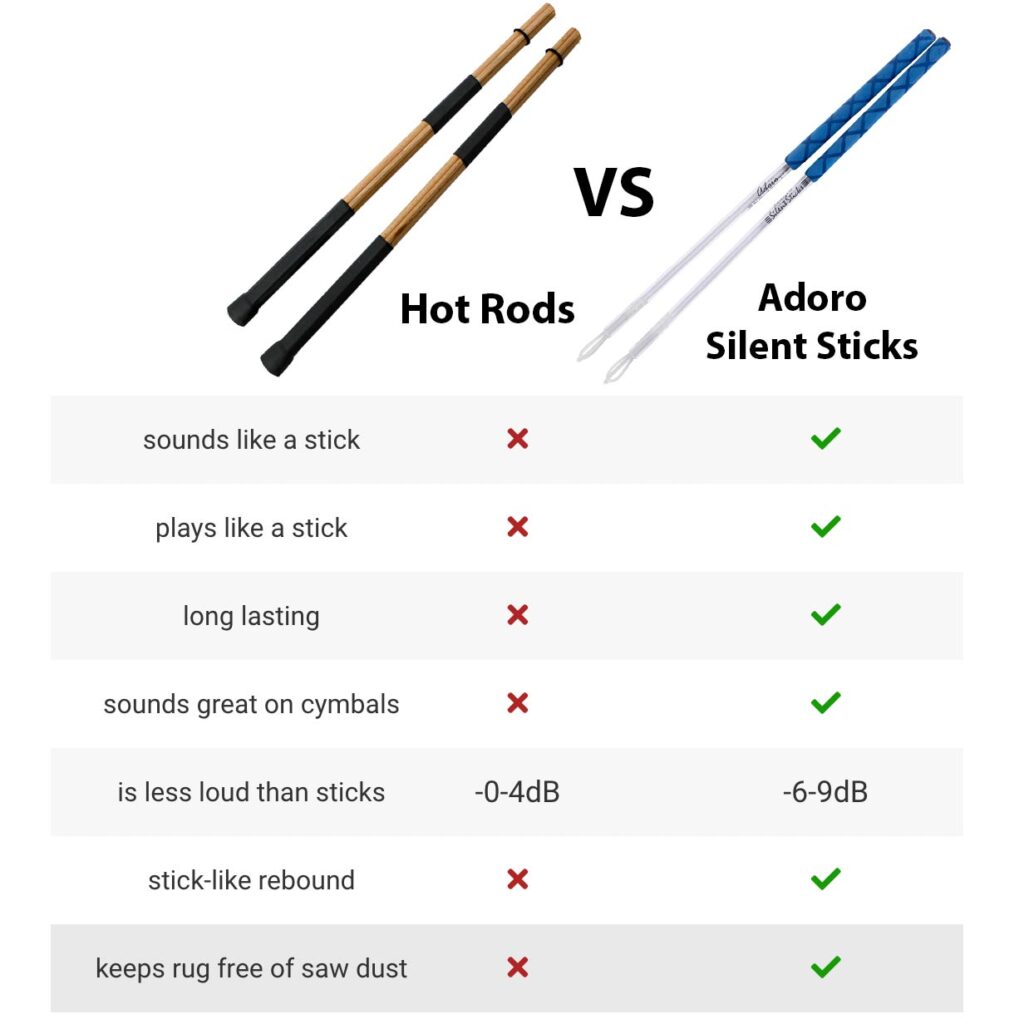 do
you need Silent
Sticks?
We offer 4 different models:
Want to reduce the volume of your (e-)drums and pads? With 16.5mm shaft the stick has the same thickness at the handle as a regular 5B stick. This is our sickest – err, thickest stick ever! Coming in a flashing red, with a softer tip that is specially adjusted to the bouncy mesh heads and pads. Rubber anti-slip X-Grips pretty much eliminate losing sticks during rapid timbal fills or busy clavé patterns.
...and two bass drum beaters
Silent Percussion Sticks (ASS) – 11mm shaft
Silent Sticks Thick X-Grip (SSX) – 14.5mm shaft, hard grip
Silent-E-Sticks (SSE) – 15.5mm shaft, soft grip & tip
Scott Pellegrom Signature Silent Sticks – 16.5mm shaft and soft grip
why
Silent Sticks &
Beater?
...and this is what our
customers
say...
-real customers who bought their sticks. not edited.
wait, there are
more
reviews!
– even more real customers who bought their sticks. not edited.
Jerry Umthun They are great. Used at Church praise band but we used those wrapped up tiny dowels where you only play solid notes. But with Adoro we can do rolls again in 8th and 16th note count. Love it.
* * *
Rob Crafts I am so pleased with these sticks. Ordered two pair and am very satisfied.
* * *
Sean Ibanez I actually really like these. Gave em a shot when they came up in my feed. Figured a few bucks wasn't a big deal if I didn't like them. They're a little more flexible than i was expecting, but it's easy to adjust to. They're slim and light, i think a bit thinner than my 7a sticks. It lets me practice rudiments after my 5y/o goes to bed. It's going to make a big difference for me.
* * *
Chris Sheppard I LOVE THE SILENT STICKS!! Just played my first full gig with them at a local Craft Brewery and we had a blast AND I played fully "free"! Decided to buy another pair as a back up.
* * *
Rafael Franco This silent beater is the best out there. It ACTUALLY reduces the noise significantly, opposed to the Kat and others which barely do anything
* * *
Greg Webster I bought two pair… Love them. They are not for heavy hitters.
* * *
Marco Noto Mine were shipped very quickly. The thin version is a little too small for my hands but workable. May try the larger size.
* * *

Tony Kay I have a pair and they really do cut the volume. They are very light in weight compared to regular sticks. They have a new version for e-drums which are a little more like a regular stick in weight. I use them for practice and when playing gigs in smaller venues. 
* * *
Justin Bowe I've tried many implements to play quieter but with good tone; I don't like rods, I like some things about rutes, and I liked the ProMark broomsticks but these SilentSticks are the best option I've tried in years. They feel great, play great, and work great for playing in a small church worship area. I did break the tip off one, but it happens to real sticks too so it's fine. They deliver a tiny bit more attack than tone, but I can live with it. Highly recommend!
* * *
Scott Keiser I'm a worship pastor, and our Adoro worship drums and silent sticks arrived here in the U.S. 3 days after ordering, even shipping from Germany! 3 days!! That's crazy.
Our sanctuary has ridiculous acoustics. It's like playing in a cave. If you clap, it lingers for 4 seconds. Enter Adoro drums and sticks. We got it ready and mic'd up with no cage a couple Sundays ago, and I was nervous. The older members of the congregation would've bombarded me with emails the next day if it was too much (I know what you're thinking, but that's another convo for another day). But that Sunday went great! The drums blended well and were easy to regulate from the booth. I received several compliments on them even. They do what they are designed to do. Even in a "cave" sanctuary. Very impressed with this customer-minded company and the CEO.
* * *
Nechemia Soibelman I never leave feed back but I got these sticks and let me tell u life changing.
* * *
Bob Forman These are way quieter than wood sticks ,but sharper and louder than brushes! The perfect medium,and won't annoy other musicians .lol. Not sure how durable they will hold up,just started playing ,time will tell !!
* * *
Richard A. Langley I use the silent sticks to rehearse in our little studio. I love them. If the rest of the band wants to hear what they really sound like with out ear monitors they are a miracle!
* * *
Leeroy Heckart My whole church basically made a comment the Sunday I brought them to church. That's how much of a difference these sticks make. I'm pulling the trigger on the worship series.
* * *
Ken Osterhoudt I don't get  the complaining. They serve a purpose. If I wanna play at 11pm my neighbors hear nothing with these. The family doesn't complain when they are trying to watch tv. If I just wanna mess around, not hearing protection these are fine. Sure I prefer real sticks but my practice time can now double with these. They serve a purpose. Took just a day to get used to them. Give them a chance. I ordered them, they were here in less than a week.
* * *
David Fuchser Just got a pair of the blue edrum version for my Roland kit, since I live in an apartment. It's not silent of course, but it takes a considerable edge away compared to my regular sticks. Also have tennis ball risers underneath my bass and pedals (the main offenders!) Would recommend these sticks to any edrum player!
* * *
Don't be selfish – not only you can use silent sticks, your friends might need them too! Sharing is caring!
You want more?
How about buy 2x, get 25% off for both? Act now and claim your rebate! For a limited time only!